Star Wars Action Figure - Kyle Katarn - Expanded Universe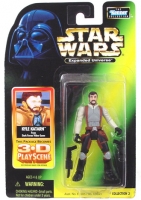 View Larger Images
Product code: 1970

IN STOCK NOW
Fast and Cheap Postage and Packaging


Star Wars Action Figure - Kyle Katarn - Expanded Universe
Prepare to jump to lightspeed with Kenner's Expanded Universe, now offering the most memorable characters from Star Wars Dark Horse comics, Bantam Novels, and LucasArts video games.
Finally, the entire galaxy can be yours!
Take advantage of
Same day despatch. (on orders before 1pm gmt)
No worries, International shipping service.
Excellent packaging with fragile stickers.
Customer account with tracking service.
100% stock availability.
Guaranteed.