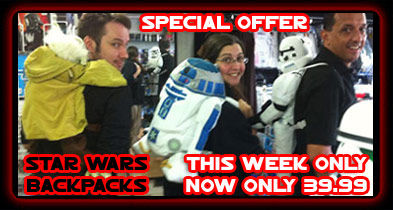 SPECIAL OFFER - R2-D2 Back Buddy - Rucksack
Wear your love for Star Wars right on your back.
A fun and unique way to store your belongings. Squeezable and collectible.
This little droid can do it all.
R2-D2 has performed many functions throughout his career - now he's ready to work for you.
This R2-D2 Back Buddy is the perfect way to carry around your favorite Star Wars items.
Take advantage of:
Same day despatch.
No worries, International shipping service.
Excellent packaging with fragile stickers.
Customer account with tracking service.
100% stock availability.
Free Gift with every order.
Guaranteed.