Star Wars News
Star Wars Gift Vouchers 09/02/2015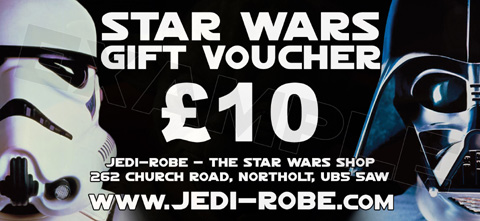 Jedi-Robe Star Wars Gift Vouchers - One Voucher £10.00 Each
Jedi-Robe.com today launch a brand new Star Wars gift voucher for a special friend or family member.
Each Jedi-Robe Gift Voucher is worth £10.00 and can be spent online or at our London Store.
There are no restrictions or voucher end dates, purchases can be made on on everything in store from Costumes, Toys and Gifts.
For more information please CONTACT US. or buy your vouchers directly from this link: