The Star Wars Walk-In Shop in London, UK.
Jedi-Robe.com - The Star Wars Shop,
262 Church Road, Next to McDonalds - Target Roundabout.
Northolt, Middlesex, London, United Kingdom, UB5 5AW.
CLICK HERE FOR DIRECTIONS
LONDON STORE OPENING HOURS
MONDAY to FRIDAY 10:00am - 6:00pm
SATURDAY 10:00am - 4:00pm
CLOSED SUNDAY
Celebrating the 10th Anniversary of our London Store....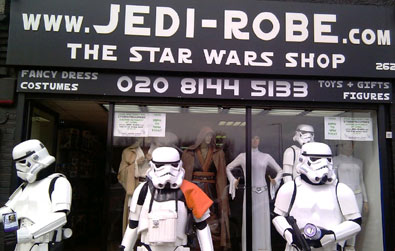 ---
WHAT JEDI-ROBE.COM CUSTOMERS SAY:

"Thanks Erika, Ben and team for the fantastic service and experience. Highly recommended!" - Sud

"Absolutely fantastic customer service!! My dad visited on his birthday and you could not do more for him! From a personalised sign to a birthday card!! Making his 50th a birthday to remember! Treated like a VIP. Highly recommend to all star wars fans a great shop with amazing staff!" - Becky

"Absolutely fantastic customer service, super friendly guys and could not do more to help me with my Trooper fitting. 100% recommend and can't wait to go back to accessorise more!" - Simon

"Very friendly, helpful people letting us 'play' with lots of cool stuff" - Ryan

"The guys here were so so helpful today, showing us how to fit stuff properly, making suggestions, chatting about Celebration and all round being great. Would definitely recommend!" - Robyn

"Very helpful and friendly staff, great to talk to people who know the difference between a DL-44 and an E-11 blaster." - Greg

"Absolutely fantastic experience. Totally worth every penny spent. Such helpful staff." - Anthony

"Great place to visit! My son Charlie wants us to go back. Oh go on then...." - Tim

"As soon as I walked in I had to smile! Lots of memories from my youth! Really helpful staff!" - Deepak

"Simply awesome.... I could have spent hours in there..!!!" - Steve

"Great selection of Star Wars outfits for cosplay and good resource if you are looking for anything Star Wars." - David

"I wish we had a Star Wars Shop when we were Kids" - Dave

"Best shop ever! A must see for all Star Wars fans. Amazing service! Helpful, friendly staff. It can't be faulted Thank you very much. May the Force be with you, always." - James

"We travelled from Paris by train and so much fun, merci" - Louis

"I want to work here when I grow up" - Peter (aged 6)