The Star Wars Walk-In Shop in London, UK.
Jedi-Robe.com - The Star Wars Shop,
262 Church Road, Next to McDonalds - Target Roundabout.
Northolt, Middlesex, London, United Kingdom, UB5 5AW.
CLICK HERE FOR DIRECTIONS
LONDON STORE OPENING HOURS
MONDAY to FRIDAY 10:00am - 6:00pm
SATURDAY 10:00am - 4:00pm
CLOSED SUNDAY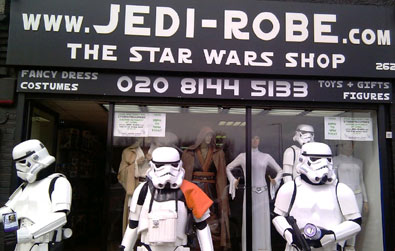 ---
WHAT JEDI-ROBE.COM CUSTOMERS SAY:

"One of the most exciting shops to open ever"

"Unbelievable"

"Star Wars Heaven"

"I drove down from Lincoln, worth every mile and more"

"I popped out to buy a newspaper and spent two hours in Jedi-Robe.com The Star Wars Shop"

"I found you on the Internet and had to visit"

"Brilliant, Just Brilliant"

"Great Shop, Great Products and Great Service, thank you"

"My Wife and I drove up from Portsmouth on Saturday morning, just perfect. Thank you so much"

"My new regular Saturday hobby"

"I drove around the corner and there it was.... A Star Wars Shop, wow"

"I wish we had a Star Wars Shop when we were Kids (Dave, 42)"

"My kids love Star Wars, your shop is a dream"

"The mannequins look like real film characters"

"We travelled from Paris by train and so much fun, merci"

"I want to work here when I grow up" (Peter, 6 years old)

"I feel like a kid again"